Maria, another very dangerous hurricane
MIAMI (BBC).- Hurricane Maria has strengthened to an "extremely dangerous" category four storm, US forecasters say, as it bears down on islands in the Caribbean.
It is due to hit the Leeward Islands, which include the US and British Virgin Islands, in the coming hours.
Maria is moving roughly along the same path as Irma, the hurricane that devastated the region this month.
Martinique declared a maximum-level alert while another French island, Guadeloupe, ordered evacuations.
Hurricane warnings were also issued for Puerto Rico, Dominica, St Kitts and Nevis, Montserrat, St Lucia and the US and British Virgin Islands.
A hurricane watch is in place for St Martin, Saba, St Eustatius and Anguilla.
Some of these islands are still recovering after being hit by Hurricane Irma – a category five hurricane which left at least 37 people dead and caused billions of dollars' worth of damage.
US President Donald Trump declared a state of emergency for the US Virgin Islands on Monday.
The Leeward Islands, where Maria will first strike, include Antigua and Barbuda. The latter island was evacuated after being devastated by Hurricane Irma.
The US National Hurricane Center (NHC) has warned that heavy rainfall caused by the hurricane "could cause life-threatening flash floods and mudslides".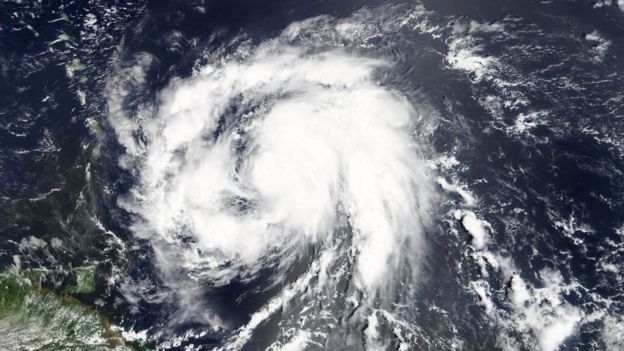 The eye of the hurricane was about 45 miles (72km) east-south-east of Dominica at 21:00 GMT on Monday and expected to pass very close to the island.
In the British Virgin Islands, the authorities fear Maria could whip up debris left behind by Irma.
Lt Col Paul Maynard, a Royal Marine deployed to the British Virgin Islands, told the Press Association the hurricane could pick the debris up, "spin it around, and throw it like ammunition".
"It could cause potentially more casualties and fatalities than Irma did," he added.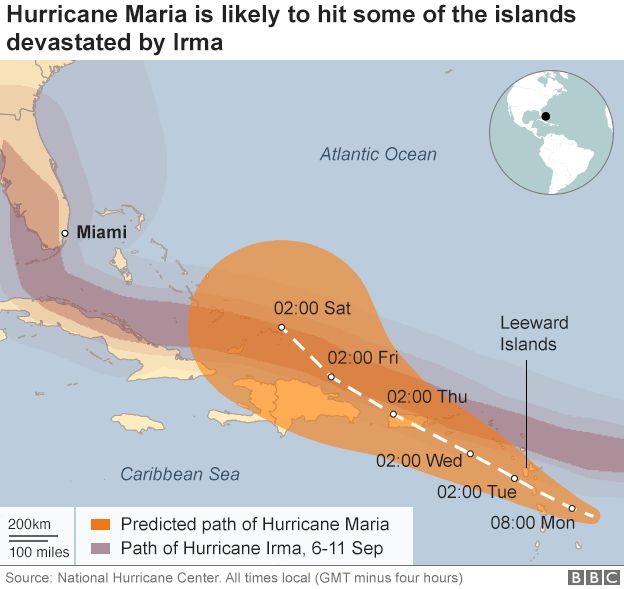 The British government said more than 1,300 troops were staying put in the region and an additional military team had been deployed to the British Virgin Islands.
In the French territory of Guadeloupe, schools, businesses and government buildings have all been closed and severe flooding is predicted. The French government has ordered low-lying areas on the islands to be evacuated, AFP reports.
Preparations have also begun in Puerto Rico, where Maria is expected to strike on Tuesday.
Earlier this month, Irma left more than two-thirds of homes on the Dutch side of the island of St Martin (known as Sint Maarten) uninhabitable, with no electricity, gas or drinking water.
The French government has said its side of St Martin – known as Saint-Martin – sustained about €1.2bn ($1.44bn; £1.1bn) in damage, with nine deaths across Saint-Martin and nearby St Barts.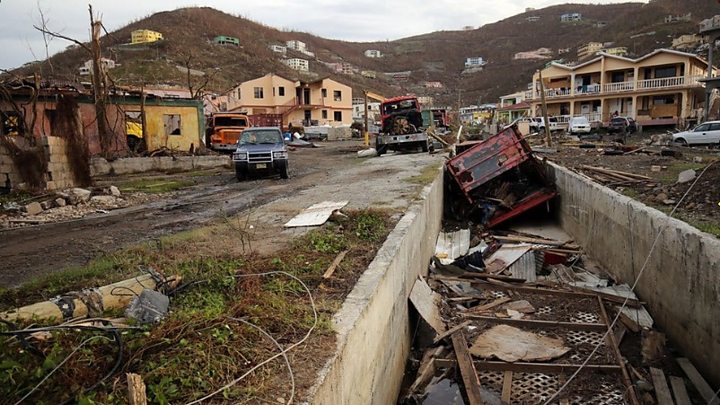 On the British Virgin Islands, entire neighbourhoods were flattened.
After a visit to the area, UK Foreign Secretary Boris Johnson described the damage as something "you see in images from the First World War".
Virgin boss Richard Branson, who has a home in the Virgin Islands, has been tweeting ahead of the Maria's predicted arrival, warning people to stay safe.
The Puerto Rican government has issued a statement saying it expects the hurricane to make landfall there as a category three on Tuesday.
The US territory escaped the worst of the damage from Irma – although it experienced widespread power cuts – and it has been an important hub for getting relief to islands that were more badly affected.
"Puerto Rico is our lifeline," Judson Burdon, a resident of Anguilla, told Reuters news agency. "We had two volunteer flights cancel because of the weather that is coming."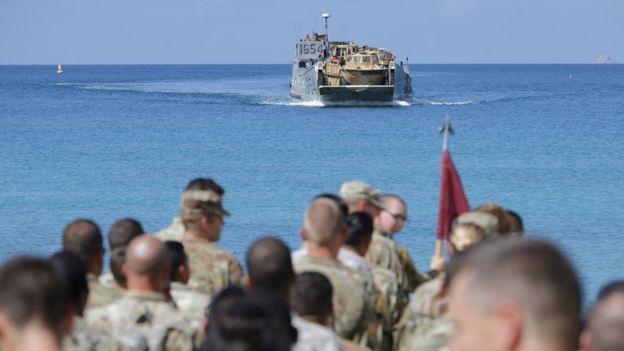 Irma also hit the US, where several dozen deaths were linked to the hurricane. Nearly 6.9 million homes were left without power in Florida, Georgia, North Carolina, South Carolina and Alabama.
A second hurricane, Jose, is also active in the Atlantic, with maximum sustained winds of 90mph.
The centre of Jose was about 265 miles east-south-east of Cape Hatteras in North Carolina, the NHC said in its advisory at 18:00 GMT on Monday.